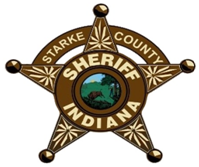 An operation designed to locate illegal narcotics being transported through Starke County has landed a handful of individuals court dates.
Last Thursday, officers with the Starke County Sheriff's Office conducted a four-hour saturation patrol on US 30. They employed the help of K9 Terror in the effort.
32-year-old Jonathan Porter of Illinois was stopped for an alleged traffic violation. Following a positive identification by the K9 unit, officers located the presence of cannabis inside the vehicle. Porter was issued a citation and provided a court date, eventually being released from the scene.
Officers also engaged in a vehicle pursuit after a car driven by 32-year-old Bryan Flowers of LaPorte is accused of not stopping for law enforcement. Flowers is being charged with Resisting Law Enforcement with a Vehicle, Reckless Driving, and Criminal Mischief. He also had two active warrants out of LaPorte and Allen County.
During the enforcement blitz, K9 Terror also helped locate cocaine in the vehicle of 21-year-old Kevin Reading of Attica, Indiana. Some paraphernalia was also located. Multiple charges were filed in his arrest. Both passengers in Reading's vehicle, 21-year-old Courtney Dale, and 26-year-old Jon Kopf are also being charged with Possession of Cocaine.