"Regional, state, and local officials gathered at the Starke County Justice Center on Monday for the dedication of Indiana's first Therapeutic Community Center.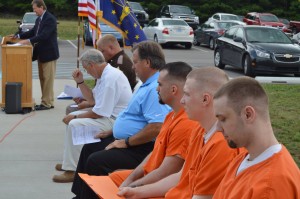 The program – sought after learning that Starke County reports a high level of drug use and production – is designed to offer inmates addicted to drugs an opportunity to receive treatment and programming with increased levels of responsibility in a non-prison environment.
Starke County Sheriff Bill Dulin says everyone deserves a second chance.
"As individuals, we undoubtedly will make mistakes," says Dulin. "It's how we learn from those mistakes and move forward that determine our resolve and shape the remainder of our lives. Yet for individuals attempting to re-enter society after a stint of being incarcerated, those second chances are fraught with countless pitfalls, complex obstacles, and troubling temptations."
The dedication offered tours and examples of just how the Therapeutic Community will work in Starke County and how it is being used to treat offenders in Indiana.
Opening the treatment center has garnered the attention of other counties in the Hoosier state looking to implement similar programs in their communities. According to information provided during Monday's dedication, offenders selected to participate in the program will live in a residence at the justice center, but will complete different levels of training before being reintroduced into society.
Starke County Circuit Court Judge Kim Hall was a primary advocate for the project. Pointing to the participants in attendance, he says it works through cooperation and self-help.
"They're in our Therapeutic Community and they will spend this day working together, kind of like a large family, a community," says Hall.
Therapy, anger management, communication, moral judgment, and relapse prevention are all included in the Therapeutic Community curriculum. The model has been around for more than 40 years.
Those already enrolled in the program spoke to its efficacy. Among them is Chris Swihart, who made the point of saying he wants to prove to his family that he's capable of positive change.
"My goals for my future are pretty simple, and they all depend on one thing in particular: that is to remain clean and sober," says Swihart. "By doing so, I will start to live as a productive, positive, and effective member of society. I want to be someone others can look up to and admire and say if he can change his life, why can't I?"
The Therapeutic Community offers 48 beds. Tours of the facilities allowed those in attendance to observe the residences and the community garden that participants have been actively managing this year.
Judge Hall says he hopes the program redirects inmates back into society. "
Story by our friends over at WKVI