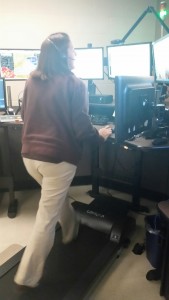 Starke County Sheriff's Office
The Starke County Sheriff's Office recently purchased a treadmill for the 911 Center.
Starke County Dispatchers work 12 hour shifts and the majority of that shift is sitting at the consoles, with the treadmill dispatchers are able to stand and walk at a slow pace while on duty to help reduce stress and promote health.
The treadmills move as fast as 2 mph and does not interrupt emergency calls or other functions of the dispatchers job and they have the ability to stop the tre…admill at any time.
The treadmill will decrease stress, decrease sick leave, improve employee moral and increase productivity.